A performance mid weight, mid length waterproof sock featuring Hydrostop, designed specifically for MTB ( Mountain Biking ) offers a perfect balance of warmth and breathability.
Features:
100% Waterproof, Windproof & Breathable
Mid weight, mid length sock offering a perfect balance of warmth and breathability
Reduced water ingress – Hydrostop silicon free elastication provides a secure fit and band Moisture control and comfort – Merino Wool lining
Additional ankle support – Elasticated ankle and instep
Secure comfortable fit – Y-gore heel construction
Prevent rubbing – Hand linked toe closure created flat seam
Guard against friction and reduce risk of blistering – Padded heel, toe and footbed
Hydrostop Usage Guide
SealSkinz Hydrostop technology creates a seal between the sock cuff and skin, helping to reduce the amount of water from running down the leg and into the sock. Due to this close bond between sock cuff and skin, we recommend that Hydrostop socks are only used outdoors and not for a prolonged period of time. Incorrect or prolonged use can result in excessive rubbing against the skin and may in a very small minority of cases cause minor skin irritation. The Hydrostop seal material has been fully tested to EN ISO 10993-5: 2009 and is OEKOTEX compliant.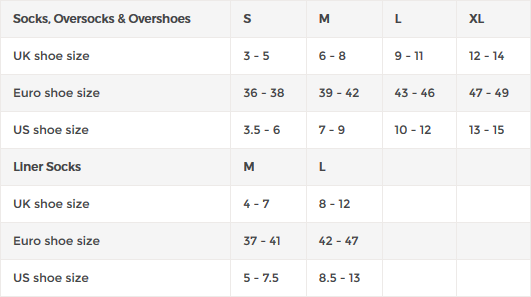 The measurements above are your shoe size, so if you are a UK size 7 we recommend you would be a size M (Medium).
If you are at the top of a size such as a UK 8 to 8 1/2 we recommend you move up in size as our waterproof socks are thicker than normal socks.